Two River Place
720 North Larrabee Chicago Illinois 60654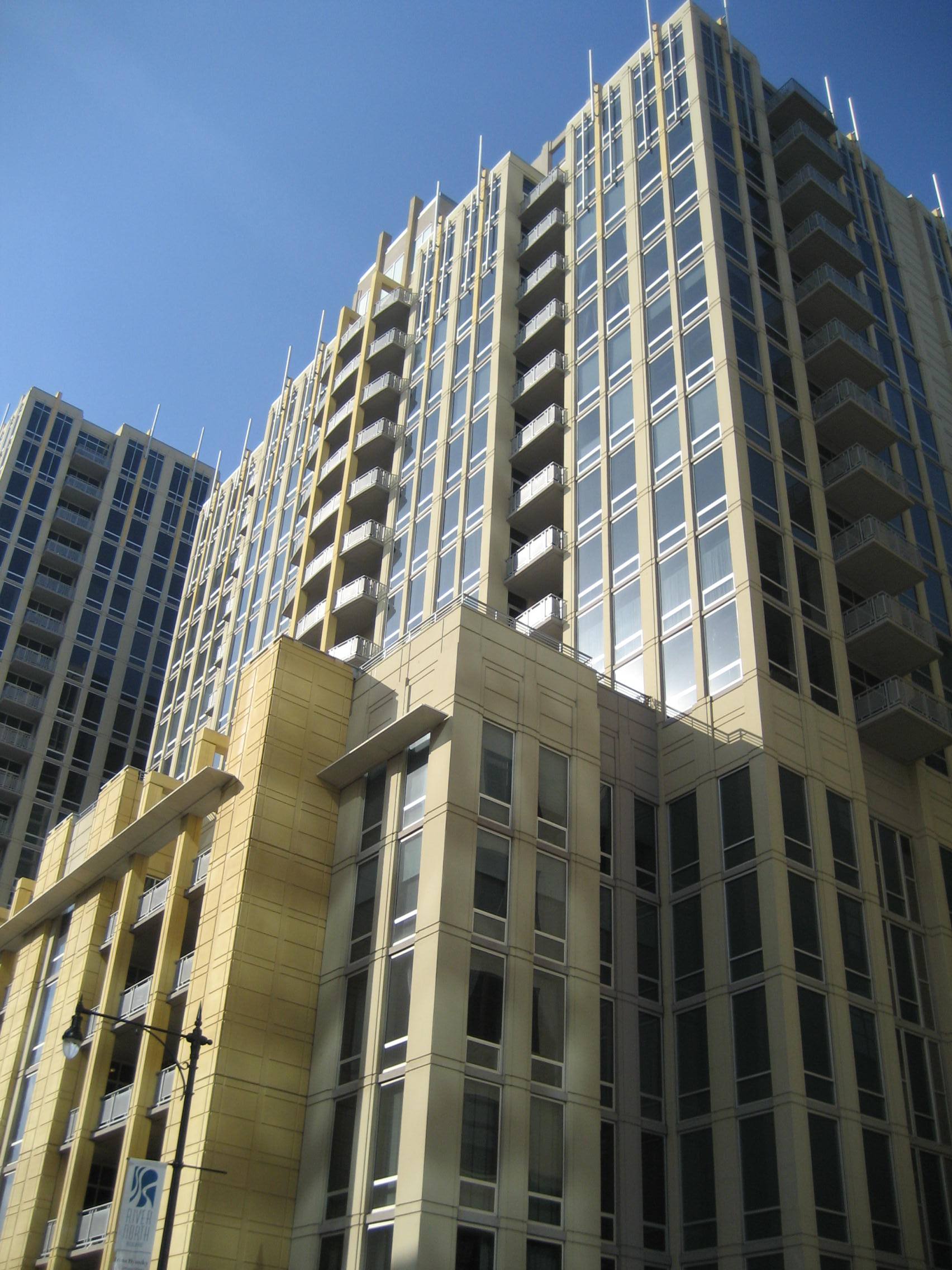 Built-in 2004 and standing 17 stories high, Two River Place is a stunning high rise located in Chicago's River North neighborhood. This condominium offers a wide array of amenities to residents and provides plenty of nearby opportunities for fun and entertaining.
Neighborhood and Building History
Two River Place is located in the stylish River North neighborhood just northwest of the Chicago River. Once a rundown area, River North began flourishing in the early '70s as local artists and creative professionals began claiming the neighborhood as their own. Since then, the district has become a trendsetting and popular area with no shortage of entertainment options for locals to check out.
As a sought-after area for established professionals, River North provides countless activities for locals to explore. In the heart of it all is the Two River Place building, perfect for the person who loves to be in the middle of it all and embraces the fast-paced Chicago lifestyle. Once an old Montgomery Ward catalog building, Two River North was converted into residential spaces and has become an extremely desirable place to live.
Features and Amenities
Two River Place offers a wide assortment of amenities for residents. The building boasts a heated parking garage for those who desire covered and easy-to-access parking. The building also ensures that residences are always under careful surveillance with a 24/7 door staff for added security. A state-of-the-art fitness center is open for residents' use, and pets are also welcome in the building.
The units at Two River Place offer unique features, such as inviting fireplaces, updated gas appliances, and terraces overlooking the iconic Chicago cityscape— perfect for those who want a view of the famous skyline. Additionally, because the river is practically in the building's backyard, residents have no need to worry about construction projects obstructing their scenic views in the future.
What to Expect from Two River Place
Living in Two River Place opens up a myriad of opportunities for residents. For those who enjoy entertaining and hosting guests, there is no shortage of striking and modern art galleries as well as fine dining and bar options. Within walking distance are some of Chicago's most popular dining and nightlife options, and some of the other most iconic city stops are just a quick drive or bus ride away. Two River Place is right in the heart of the neighborhood, allowing residents easy access to these experiences and ensuring that friends or out-of-town visitors are never bored when they stop by to visit.
The area surrounding Two River Place provides easy access to day-to-day necessities as well. Within walking distance of the building, there are gyms, convenience stores, banks, coffee shops, and more. When you're living here, nothing is too far out of your way!
Because this building has so many benefits and amenities, the best way to secure one of these popular units is to work with an experienced broker. Michael Rosenblum is Chicago's top producing broker in the River North neighborhood, with more than $600 million in career sales. Michael has successfully assisted buyers countless times in identifying the perfect neighborhood, unit, and home for them and their families. His experience and knowledge of the River North area are unmatched, and he is proud to have secured multiple units at Two River Place for buyers throughout the past few years. His unique experience in the River North neighborhood has consistently helped buyers find the units of their dreams!
Michael's Sales to Date
| UNIT | BED | BATH | BATH | SQFT | TOTAL 15 |
| --- | --- | --- | --- | --- | --- |
| P-40 | | | | PARKING | |
| 101 | 2 | 2 | 0 | 1650 | |
| 501 | 2 | 2 | 0 | 1650 | |
| 801 | 2 | 2 | 0 | 1300 | |
| 907 | 2 | 2 | 0 | N/A | |
| 908 | 2 | 2 | 0 | 1300 | SOLD 2x |
| 1002 | 2 | 2 | 0 | 1125 | SOLD 2x |
| 1006 | 2 | 2 | 0 | 1200 | |
| 1113 | 2 | 2 | 0 | 1248 | SOLD 2x |
| 1207 | 2 | 2 | 0 | 1250 | |
| 1302 | 2 | 2 | 0 | 1179 | |
| 1504 | 1 | 1 | 0 | 820 | |