The Montgomery
500 West Superior Chicago Illinois 60654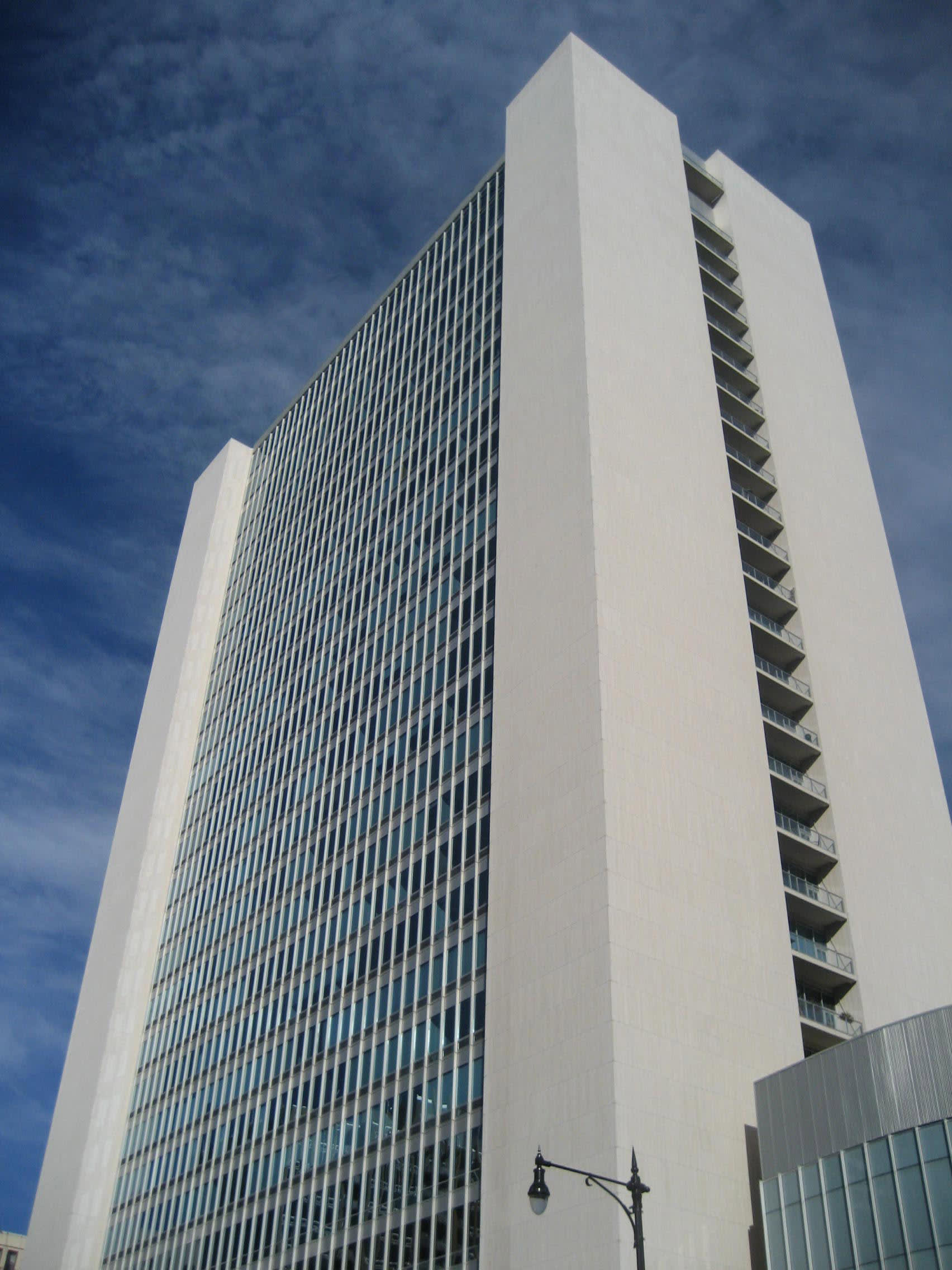 Known to many as one of the chicest neighborhoods in Chicago, River North is flourishing among locals with its abundance of residential buildings. The Montgomery is a high-rise condominium in the middle of this district, and it's the pinnacle of luxurious Chicago living.
Neighborhood and Building History
For a long period of time, River North and the surrounding areas were outdated and abandoned. In the early 1970s, however, creatives reclaimed the area and brought new, fresh life to the neighborhood. This period led to the creation of an uber-trendy area now famous for its art galleries, shopping, fine dining, nightlife, and ideal city location.
The Montgomery lies in the middle of it all. Overlooking the Chicago River, this building stands at 404 feet tall and overlooks the stunning cityscape. Residents experience the peak of Chicago living, with a plethora of shops and businesses both nearby and within a short walking distance. The building itself is modern and stands out from others with its stunning exterior features, and its units echo a similar contemporary character.
Features and Amenities
The building offers a significant array of amenities to all of its residents, including a concierge, door staff, on-site management, and covered/heated parking. For those looking to entertain, the building also features a catering kitchen as well as a club/party room. The Montgomery also gives residents the opportunity to unwind at the building's impressive fitness center or on the spacious roof deck overlooking the Chicago cityscape.
Units themselves are newly updated with open floor plans. Units feature gas appliances, fireplaces, and terraces overlooking the city and river. Dogs and cats are also allowed, so you can rest assured your furry friend will be welcome in your new space.
What to Expect from The Montgomery
Living at The Montgomery, residents can expect the ideal Chicago lifestyle. Being in the River North neighborhood, residents of this building have access to a wide variety of fine dining options, bars, and nightclubs — perfect for those looking to impress out-of-town visitors! There are also more casual dining options as well as coffee shops for those who desire a more low-key environment. No matter what type of meal you crave, everything from Chick-fil-a to Wildfire is only a short distance away!
As we previously mentioned, the area also boasts an extensive collection of art galleries and shopping, making for ideal laid-back weekend activities. The area around The Montgomery also features functional businesses — convenience stores, barbers, salons, and banks are only a short walk away, allowing residents to quickly obtain whatever they desire. The rest of the city is only a short walk or drive away, so exploring other parts of the city is never difficult.
In order to secure a unit in the extremely popular River North neighborhood, it's best to make use of an experienced professional. Michael Rosenblum is Chicago's top producing broker in the River North neighborhood, and he has helped buyers find multiple units within The Montgomery, as well as within other buildings in the area. With more than $600 million in career sales — the majority of which came from within this area — Michael is experienced and has the knowledge buyers need in order to find their perfect home in downtown Chicago. With his expertise regarding market trends, the building's features, and the surrounding neighborhood, Michael can help buyers find the ideal unit for them and their families.
Michael's Sales to Date
| UNIT | BED | BATH | BATH | SQFT | TOTAL 84 |
| --- | --- | --- | --- | --- | --- |
| 612 | 3 | 2 | 1 | 2245 | |
| 705 | 3 | 2 | 1 | 1655 | |
| 708 | 2 | 1 | 1 | 912 | |
| 713 | 2 | 2 | 0 | 1220 | |
| 810 | 2 | 2 | 0 | 930 | SOLD 2x |
| 903 | 2 | 2 | 1 | 2338 | |
| 905 | 3 | 2 | 1 | 1655 | |
| 912 | 3 | 2 | 1 | 2245 | SOLD 2x |
| 1002 | 2 | 2 | 0 | 1200 | SOLD 2x |
| 1010 | 2 | 2 | 0 | 930 | |
| 1102 | 2 | 2 | 0 | 1165 | SOLD 4x |
| 1107 | 2 | 2 | 0 | 1095 | SOLD 3x |
| 1201 | 2 | 2 | 1 | 1309 | SOLD 2x |
| 1205 | 3 | 2 | 0 | 1655 | SOLD 2x |
| 1206 | 2 | 2 | 0 | 965 | |
| 1209 | 2 | 2 | 0 | 1095 | |
| 1211 | 2 | 2 | 0 | 1265 | SOLD 2x |
| 1213 | 2 | 2 | 0 | 1220 | SOLD 4x |
| 1309 | 2 | 2 | 0 | 1095 | |
| 1404 | 2 | 2 | 0 | 930 | |
| 1412 | 3 | 2 | 1 | 2245 | SOLD 3x |
| 1413 | 2 | 2 | 0 | 1220 | |
| 1507 | 2 | 2 | 0 | 1095 | SOLD 3x |
| 1509 | 2 | 2 | 0 | 1095 | SOLD 2x |
| 1602 | 2 | 2 | 0 | 1200 | |
| 1604 | 2 | 2 | 0 | 1100 | SOLD 3x |
| 1609 | 2 | 2 | 0 | 1095 | SOLD 2x |
| 1611 | 2 | 2 | 0 | 1256 | |
| 1702 | 2 | 2 | 0 | 1200 | SOLD 4x |
| 1703 | 3 | 3 | 1 | 2500 | SOLD 2x |
| 1704 | 2 | 2 | 0 | 1095 | SOLD 2x |
| 1708 | 3 | 2 | 0 | 1480 | SOLD 3x |
| 1709 | 2 | 2 | 0 | 1095 | SOLD 2x |
| 1801 | 2 | 2 | 0 | 1154 | SOLD 2x |
| 1807 | 2 | 2 | 0 | 1095 | SOLD 2x |
| 1810 | 3 | 2 | 1 | 2245 | |
| 1813 | 2 | 2 | 0 | 1220 | |
| 1904 | 2 | 2 | 0 | 1100 | |
| 1905 | 3 | 2 | 1 | 1655 | SOLD 2x |
| 1910 | 3 | 2 | 1 | 2245 | |
| 1911 | 2 | 2 | 0 | 1256 | |
| 1913 | 2 | 2 | 0 | 1220 | SOLD 4x |
| 2003 | 3 | 3 | 1 | 2500 | |
| 2009 | 2 | 2 | 0 | 1095 | SOLD 2x |
| 2010 | 3 | 2 | 1 | 2245 | SOLD 2x |
| 2108 | 3 | 2 | 1 | 1480 | SOLD 3x |
| 2202 | 2 | 2 | 0 | 1200 | |
| 2205 | 3 | 2 | 1 | 1655 | |
| 2208 | 3 | 2 | 1 | 1480 | |
| 2602 | 3 | 2 | 1 | 1794 | SOLD 2x |
| 2802 | 3 | 2 | 1 | 3236 | |