River Place on the Park
700 North Larrabee Chicago Illinois 60654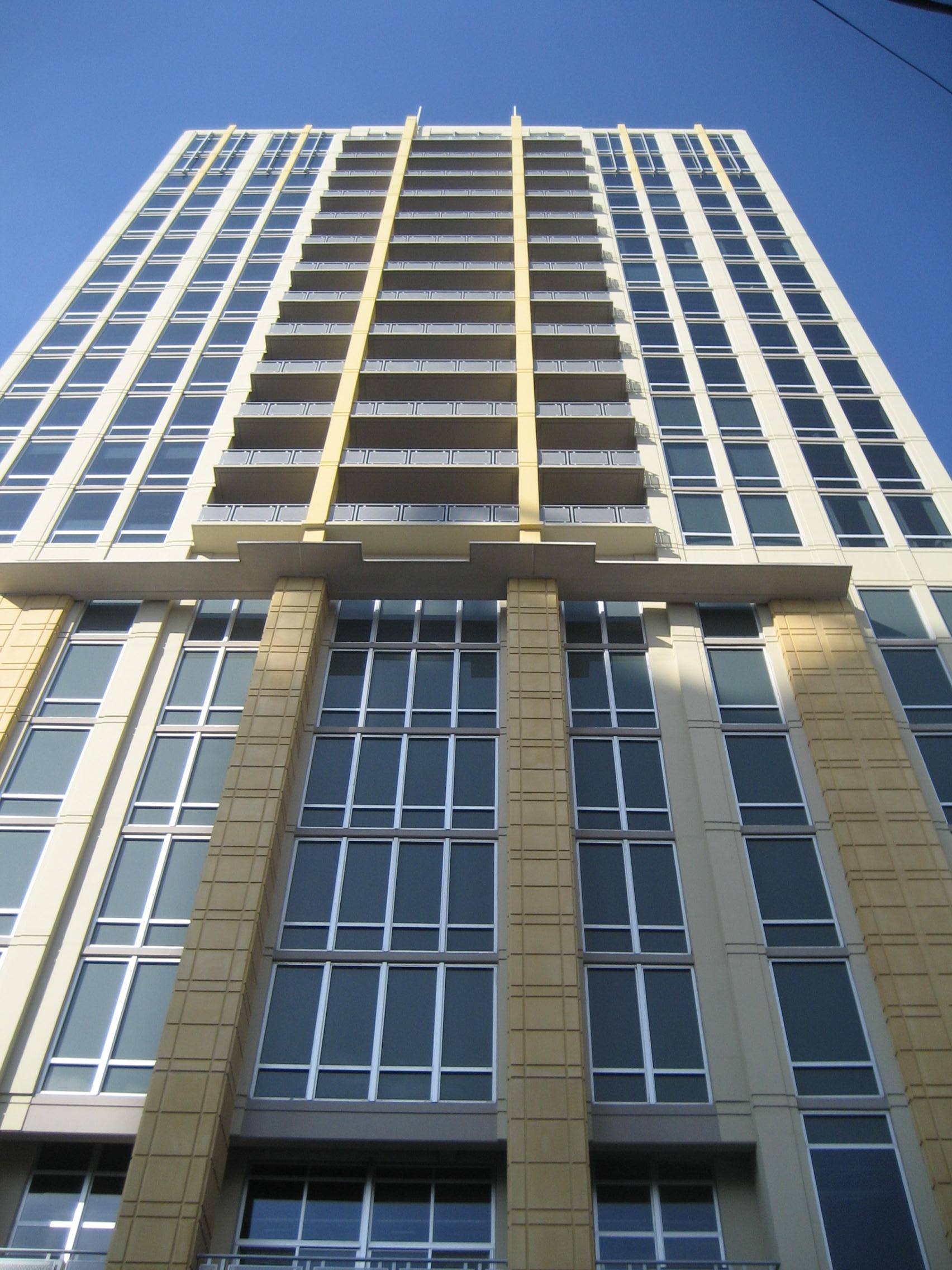 In the heart of the stylish River North neighborhood lies River Place on the Park, a 21-story high-rise condominium. Built-in 2006, this 276-foot tall building is the ideal place for Chicagoans looking to live life to the fullest in the middle of the city.
Neighborhood and Building History
River Place on the Park is located right in the middle of the River North district of Chicago. One of the most quickly-growing neighborhoods in the city, River North is popular because of its easy access to the city, stunning views, and uber-popular dining and nightlife options.
Originally the neighborhood was a heavily industrial area and warehouse district, but in the early 1970s, artists and other creatives began claiming the area as their own. Since then, River North has become widely popular for its abundance of art galleries, which make the perfect weekend options for those who want to embrace their creative side.
Located just a short walk from these galleries, River Place on the Park provides easy access to other iconic Chicago sports, as well as fine dining and cocktail lounges for those who want to keep it low-key.
Features and Amenities
Besides its prime location overlooking the Chicago River, River Place on the Park boasts a variety of amenities for residents to enjoy.
The ultra-modern exterior of the building is both impressive and welcoming, and the units themselves are roomy and updated. The building allows for a large amount of natural light to come in, making the spaces feel airy and open.
There is a variety of building benefits available to residents, including a heated garage for those who desire safe, covered parking, as well as a 24/7 doorman to ensure all residents and guests can be confident that the building is under careful surveillance. There is also a fitness center with various equipment available for residential use. Pets are welcome in the building (and there is no weight restriction imposed), so having a furry friend join you will not be an issue.
Units feature amenities such as fireplaces, gas appliances, and spacious terraces overlooking the city. For those who desire a breathtaking view of the Chicago skyline at all times of day, this building is ideal.
What to Expect from River Place on the Park
Living in the center of River North provides residents a unique opportunity to explore some of the best parts of Chicago. The building's location and proximity to other parts of the city provide residents with an always-exciting lifestyle.
Top-of-the-line dining is always in proximity, as fan favorites such as RPM Italian and Siena Tavern are only a short walk away — perfect for entertaining out-of-town guests who come in to stay for the weekend. There are also plenty of cocktail lounges, bars, and clubs to explore for those looking to enjoy a night out.
The area also features practical benefits, with convenience stores, coffee shops, dry cleaners, and gyms only a quick walk away. Living in this area provides the best of both worlds!
Due to the outstanding location and amenities of River Place on the Park, units are highly sought-after. However, you can make securing a unit in this building easier by working with an experienced broker. Michael Rosenblum is Chicago's top producing broker in the River North neighborhood, and he has sold multiple units in this building as well as other buildings in the area. Because of this, Michel has extensive knowledge of the real estate market in River North and has a consistent record of matching buyers with their ideal home in the area. With more than $600 million in career sales and multiple units sold to happy buyers in River Place on the Park, Michael can help you find the condo of your dreams.
Michael's Sales to Date
| UNIT | BED | BATH | BATH | SQFT | TOTAL 11 |
| --- | --- | --- | --- | --- | --- |
| P220 | | | | PARKING | |
| 1209 | 2 | 2 | 0 | 1245 | |
| 1211 | 2 | 2 | 0 | 1150 | SOLD 2x |
| 1314 | 2 | 2 | 0 | 1209 | |
| 1410 | 2 | 2 | 0 | 1200 | |
| 1515 | 2 | 2 | 0 | 1200 | |
| 1709 | 2 | 2 | 0 | 1245 | |
| 1801 | 2 | 2 | 0 | 1200 | |
| 1809 | 2 | 2 | 0 | 1245 | |
| 2008 | 2 | 2 | 0 | 1250 | |
For more information about how to secure a unit at River Place on the Park, contact Michael Rosenblum by emailing
[email protected]
or calling
312-893-8162
.