River North Commons
520 West Huron | 521 West Superior | 525 West Superior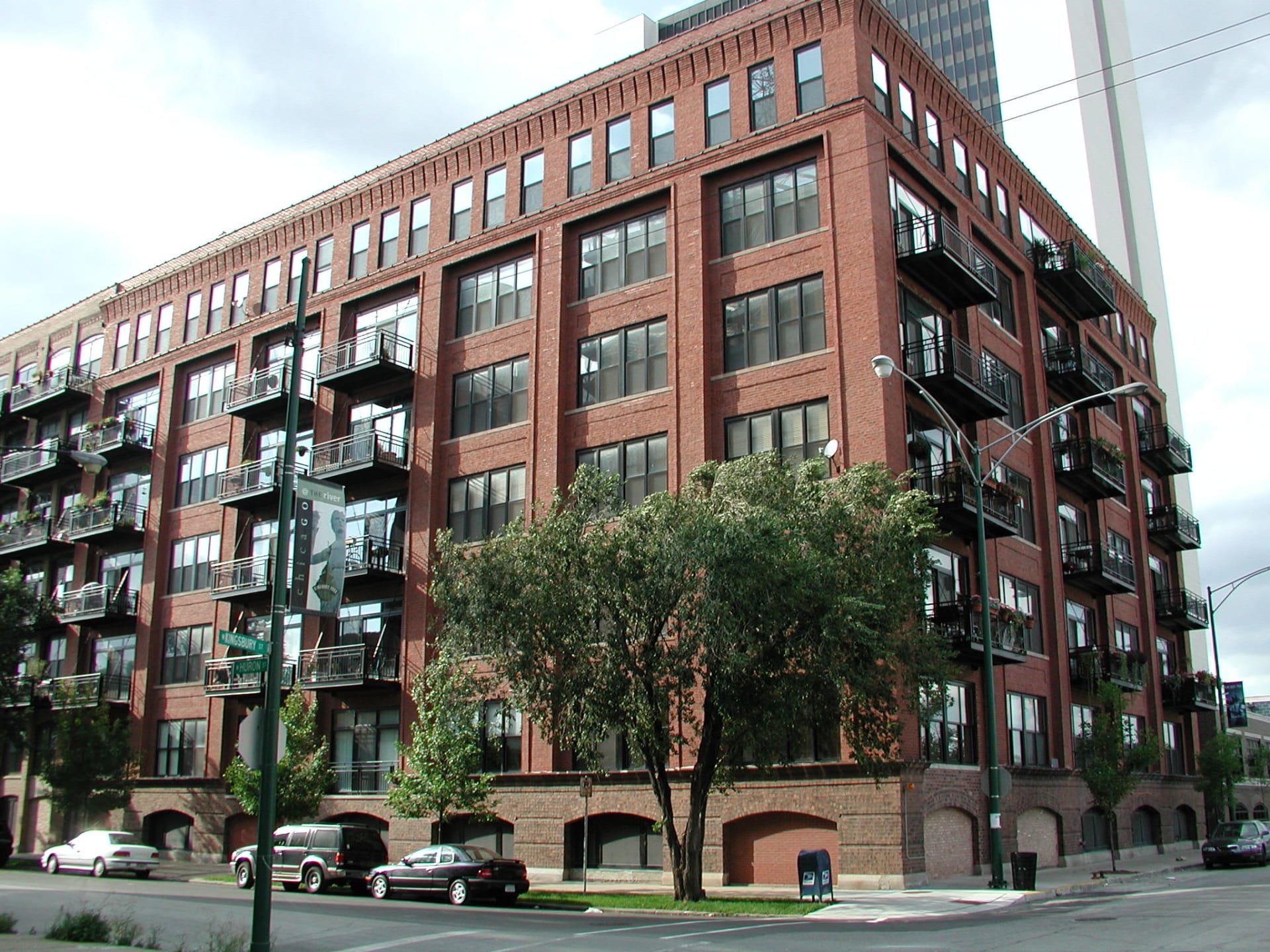 Neighborhood and Building History
Once an old lamp factory, River North Commons has been transformed into a stunning and modern residential space in the River North neighborhood. At one point an old and abandoned district, River North is now flourishing and has become a mecca for artists and other creatives to share their talents. The area is growing quickly in popularity among Chicagoans due to its wide array of art galleries, along with its impressive dining, drinking, shopping, and entertainment options.
Located in the center of the district, River North Commons provides residents access to a trendy part of the neighborhood while also being within walking distance of other popular areas in the city.
Features and Amenities
River North Commons was built in 2000 and has almost 200 units for residential use. The building features exposed brick and pillars, tall ceilings, and lots of natural light to make the space feel warm and welcoming. The units are contemporary and updated, and they all possess a spacious floor plan. They feature hardwood floors, stunning granite countertops, stainless steel appliances, and luxurious bathrooms and soaking tubs. These condos also possess in-unit laundry machines.
Besides the contemporary aesthetics of its units, River North Commons offers a wide range of amenities to its residents. The building also offers a 24/7 doorman to ensure the building is carefully monitored at all times. There is extra space provided for residents in the building's additional storage units, and covered parking is available as well. Residents can unwind after long days on the building's sundeck and take in city views, or they can take to the fitness center to get in a good sweat.
What to Expect from River North Commons
Living in a River North Commons condo affords residents the best of both worlds — some of the best entertainment opportunities in the city are right around the corner, and nearby public transportation makes it easy to access all of what the rest of the city has to offer.
Some popular nearby dining options for foodies include RPM Italian and Pizzeria Portofino, which are both just a short walk or drive away.
This location provides access to some of the best art galleries the city has to offer — a popular draw to the area for tourists and locals alike. The area is a fantastic nightclub hub too, so it's perfect for those looking to unwind and have a great night in the city!
Securing a unit at River North Commons can be difficult, however, as its location and amenities can make it a frequently sought-after building for buyers. If you're looking to buy here, it is best to utilize an experienced and knowledgeable broker in order to effectively navigate and understand the process. Michael Rosenblum is Chicago's top producing broker in the River North neighborhood, and to date, he has acquired more than $600 million in career sales, most of these being from the River North area. He has sold multiple units in River North Commons and other nearby buildings, and he has extensive knowledge about buying in this area. With a proven track record of finding client's homes within the area, Michael is passionate about helping buyers find the perfect home for them and their families to enjoy for years to come.
Michael's Sales to Date
| UNIT | BED | BATH | BATH | SQFT | TOTAL 70 |
| --- | --- | --- | --- | --- | --- |
| 80 | | | | PARKING | SOLD 2x |
| 108 | 2 | 2 | 0 | 1141 | |
| 110 | 2 | 2 | 0 | 1540 | |
| 119 | 3 | 2 | 0 | 1700 | |
| 120 | 2 | 2 | 0 | 1380 | SOLD 3x |
| 130 | 2 | 2 | 0 | 1300 | |
| 206 | 2 | 2 | 0 | N/A | |
| 212 | 3 | 2 | 0 | N/A | SOLD 2x |
| 218 | 2 | 2 | 0 | 1324 | |
| 219 | 3 | 2 | 0 | 1700 | SOLD 3x |
| 220 | 2 | 2 | 0 | 1380 | SOLD 2x |
| 226 | 2 | 2 | 0 | N/A | |
| 227 | 2 | 2 | 0 | 1500 | |
| 304 | 1 | 1 | 0 | N/A | |
| 312 | 3 | 2 | 0 | 1700 | |
| 314 | 2 | 2 | 0 | 1305 | |
| 315 | 2 | 2 | 0 | 1310 | SOLD 2x |
| 319 | 3 | 2 | 0 | 1700 | SOLD 2x |
| 324 | 2 | 2 | 0 | N/A | |
| 325 | 2 | 2 | 0 | 1587 | SOLD 2x |
| 331 | 2 | 2 | 0 | 1380 | |
| 401 | 2 | 2 | 0 | 1575 | SOLD 2x |
| 402 | 1 | 1 | 0 | 845 | |
| 403 | 1 | 1 | 0 | 930 | |
| 404 | 1 | 1 | 0 | 800 | |
| 406 | 2 | 2 | 0 | N/A | |
| 413 | 1 | 1 | 0 | 935 | SOLD 2x |
| 419 | 3 | 2 | 0 | 1700 | |
| 421 | 2 | 2 | 0 | N/A | SOLD 2x |
| 423 | 2 | 2 | 0 | 1200 | |
| 424 | 2 | 2 | 0 | 1175 | SOLD 2x |
| 427 | 2 | 2 | | N/A | |
| 431 | 2 | 2 | 0 | 1380 | SOLD 2x |
| 503 | 1 | 1 | 0 | 930 | SOLD 2x |
| 510 | 2 | 2 | 0 | 1560 | |
| 512 | 3 | 2 | 0 | 1700 | |
| 514 | 2 | 2 | 0 | 1305 | SOLD 2x |
| 517 | 2 | 2 | 0 | 1318 | |
| 519 | 3 | 2 | 0 | 1700 | |
| 525 | 2 | 2 | 0 | 1587 | SOLD 2x |
| 604 | 1 | 1 | 0 | N/A | |
| 605 | 1 | 1 | 0 | N/A | |
| 606 | 2 | 2 | 0 | 2000 | |
| 607 | 2 | 2 | 0 | 1080 | SOLD 2x |
| 617 | 2 | 2 | 0 | 2200 | SOLD 2x |
| 625 | 3 | 4 | 1 | 3300 | |
| 629 | 1 | 1 | 0 | 900 | |
| 630 | 2 | 2 | 0 | 1340 | |
| 632 | 1 | 1 | 0 | N/A | |
| 709 | 2 | 2 | 0 | 1380 | |