Park Place
600 North Kingsbury Chicago Illinois 60654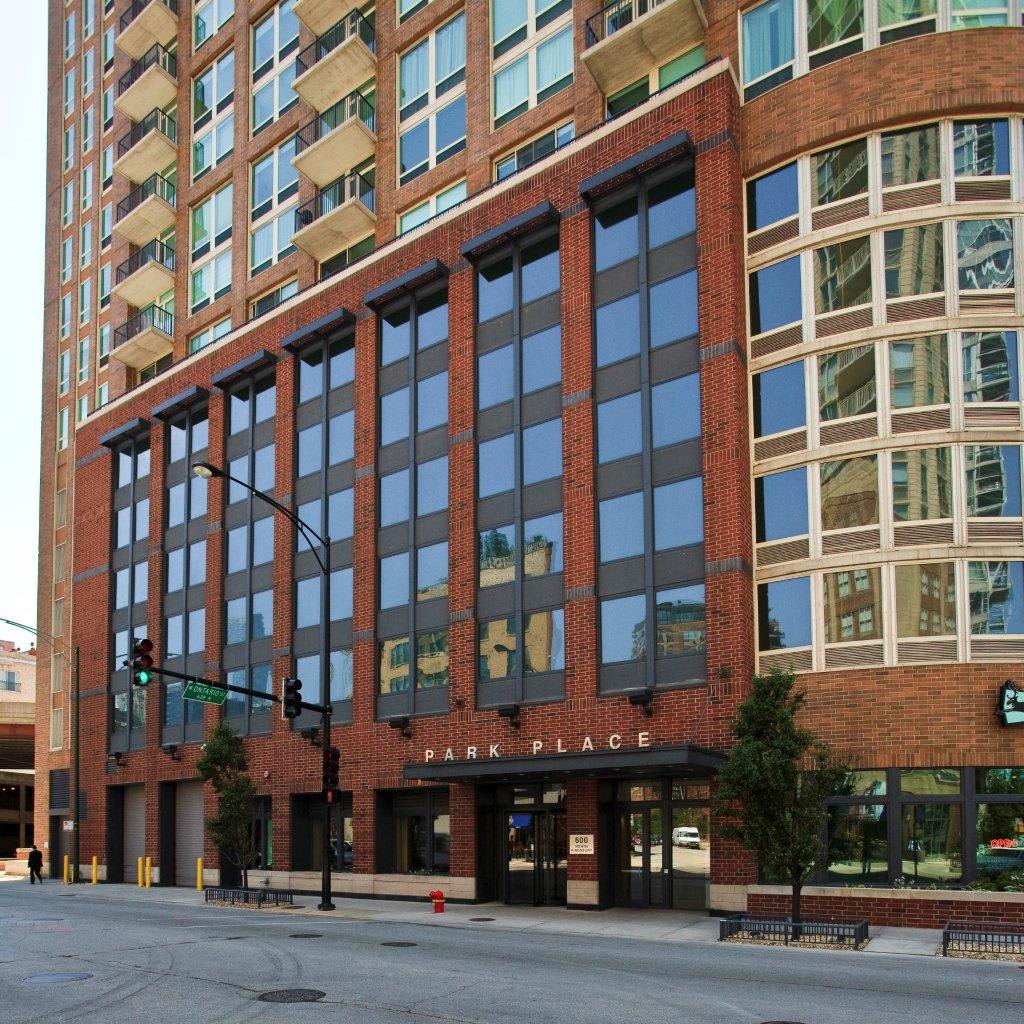 Located directly on the Chicago River in the River North neighborhood, Park Place offers stunning views, spacious units, and fantastic amenities for residents to take advantage of.
Neighborhood and Building History
Park Place is located in the stylish River North district, an area that's quickly growing in popularity due to its proximity to a plethora of dining, drinking, and entertainment options. Once an old and abandoned district, the River North district revived in the 19070s, when artists and creatives claimed the area as their own. Since then, the neighborhood has blossomed into one of Chicago's most sought-after neighborhoods, and now it boasts a wide array of trendy entertainment options for locals to utilize.
Located in the heart of it all, overlooking the river, is Park Place. Built-in 2003, the building is 18 stories tall and has 176 units available. Unique to this building is its stunning view of the river and the city — one that's best taken in from the building's finished rooftop. Though it's located in a bustling area, this building lies in a quieter, calmer corner of the neighborhood, allowing residents to leisurely enjoy their space while still allowing easy accessibility to the many exciting nearby opportunities the area has to offer.
Features and Amenities
Park Place has a fantastic package of amenities available to residents. The building's finished rooftop provides stunning views of the cityscape as well as a large pool, perfect for enjoying on hot summer days. The rooftop also has a sauna for those looking to unwind after a long day.
For those who enjoy fitness, there is a full workout center with a variety of machines available to residents. For residents who enjoy biking (either for leisure or for the purpose of commuting), there is a bike storage room available for use as well.
Park Place also has a 24/7 door staff to ensure that the building is always under careful surveillance.
The units themselves are spacious and updated. Each unit features a wonderful abundance of natural light as well as large balconies overlooking the river and the park, which serve as the building's backyard. Dogs and cats are welcome in these units, which is ideal for those looking to keep their furry friend close.
What to Expect from Park Place
Living at 600 North Kingsbury, residents can expect a high-excitement, never-boring lifestyle while also having the luxury of living in a calm, leisurely area. Due to the building's location near the heart of the city, Chicago's best and finest dining, drinking, and entertainment opportunities are never more than a short walk away. Fine dining located close to the building is perfect for bringing out-of-town guests, and there are plenty of cocktail lounges perfect for kicking off a fun night out. The neighborhood also boasts a large number of art galleries, perfect for browsing as a weekend activity.
Park Place is also located close to a variety of convenient businesses, such as barbers, hair salons, gyms, and coffee shops, giving residents the practical benefit of easy errand-running.
Because these units are so highly sought-after, securing a space in this building can best be achieved through working with an accomplished and knowledgeable broker. Michael Rosenblum is Chicago's top producing broker in the River North neighborhood, and to date, he has acquired more than $600 million in career sales — the majority of which took place in the River North neighborhood. He has prior experience selling units within Park Place, which allows him to share his unique knowledge of the building and the surrounding area with buyers. With his expertise and proficiency in the River North area, Rosenblum has a history of leading buyers to the perfect space.
Michael's Sales to Date
| UNIT | BED | BATH | BATH | SQFT | TOTAL 5 |
| --- | --- | --- | --- | --- | --- |
| 338 | | | | PARKING | |
| 506 | 3 | 4 | 1 | 5000 | |
| 1407 | 3 | 2 | 1 | 2310 | |
| 1603 | 2 | 2 | 0 | 1200 | SOLD 2x |